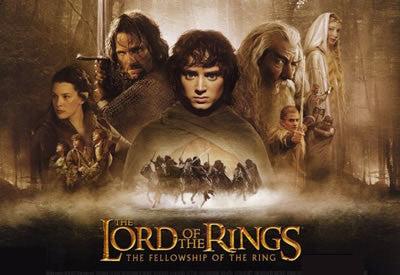 by Steven Forrest
This article appeared originally in The Mountain Astrologer Aug. 2005. Reprinted with permission.
 Tolkien's masterpiece — and Peter Jackson's brilliant three-part cinematic rendition of it — have clearly struck a powerful chord in the collective mind. That's a sure indicator of a very direct link between the archetypal realm and the characters in the tale! And of course, the archetypal realm itself is in turn rooted in the actual structure of nature, as reflected in the planetary symbolism of astrology.
Trouble is, there are nine individuals in the Fellowship, but we have ten astrological planets. That confused me until I realized that, in fact, ten figures accompany the Ring on its way toward Mordor.
This is sure to be controversial (and that's half the fun!), but here's how Frodo and his companions line up with the planets, from my own point of view. The majority of them locked into place quickly with only a little thought. In all honesty, Venus and Jupiter were my two "leftovers," along with Merry and Pippin — but even there, I soon found a pattern that made sense to me.
The Sun: Aragorn. He's the charismatic King. The story revolves around his leadership. His presence has an impact on everyone, and he invokes admiration and respect.
The Moon: Sam Gamgee. His loyalty and commitment to Frodo, along with his tendency to shine by reflected light, suggest the Moon. He also displays a profound love of home and hearth, trumped only by his protective, nurturing devotion to Frodo, whom he tacitly defines as "family." He is a gardener — a grower of living things. And he's a cook, too.
Mercury: Legolas. His hyper-speed quickness, his eternal youthfulness, and his sharp senses all point to Mercury.