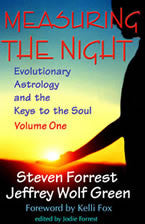 MEASURING THE NIGHT:
Evolutionary Astrology and the Keys to the Soul, Volume I
by Steven Forrest and Jeffrey Wolf Green
(currently out of print)
Foreword by Kelli Fox, co-founder of www.astrology.net
Your birthchart is also a tool for your evolution… Groundbreaking new book based on a series of evolutionary astrologyworkshops by Steven Forrest and Jeffrey Wolf Green. Seven Paws Press and Martina Green's Daemon Press are the co-publishers. Astrology, reincarnation, psychology and how to use your birthchart for your own growth…it's all here, in a warm and personal lecture format from two best-selling counseling astrologers with very full client loads. Suitable for the beginner as well as advanced or professional astrologers. Steven and Jeffrey team up to analyze the birthchart of one of the workshop participants, just as they would analyze that of a client.  400 total pages.  ISBN 0-9649113-3-7.
Read an interview with Steven and Jeffrey
TABLE OF CONTENTS:
Foreword by Kelli Fox of http://www.astrology.net
Introduction by Jeffrey Wolf Green
Chapter One:  Laguna Beach Workshops:  Introduction
Chapter Two:  Jeffrey Wolf Green on Trauma
Chapter Three:  Handout on Trauma
Chapter Four:  Steven Forrest's Case Study of "Persephone"
Chapter Five: Plenary Session
Chapter Six: Steven Forrest: The Nodes of the Moon
Chapter Seven: Jeffrey Wolf Green: The Planetary Nodes
Chapter Eight: Steven Forrest:  The Sun
Chapter Nine: Jeffrey Wolf Green: Saturn, Capricorn and Dark Eros
Chapter Ten: Volunteer Chart Analysis by Steven Forrest and Jeffrey Wolf Green
Epilogue by Steven Forrest
Appendix:  The Astrological Ages and Sub-ages
Here are some excerpts from the Dell HOROSCOPE Sept 2000's review,
written by Chris Lorenz, of Measuring the Night, Volume One:
"Two of astrology's leading lights, Steven Forrest and Jeffrey Wolf Green, have both written excellent books on Pluto. Their personal styles and terminology differ, but they have far more in common than do most individuated astrologers. Recognizing this (common ground), they have pooled their talents to put on a series of lectures centering on what they call Evolutionary Astrology. The "Pluto Brothers" then (had the lectures transcribed) to present in book format, and the wonderful result is Measuring the Night. Both Pluto brothers incorporate reincarnation and karma in their astrological views, as well as a disdain for the patriarchal system that teaches adherence to an external authority.
Forrest punctuates his presentations with many useful insights to aid in horoscope interpretation. I found it helpful to underline many of his juicy tidbits. Green includes a great reference on trauma and the outer planets. His presentation conveys a philosophical perpective that might be summarized as working with the difference between consensus reality and natural reality when counseling as an evolutionary astrologer. Evolutionary astrology allows room for individual responsibility and creativity, rather than relying on rigid, "cookbook" interpretations of character and destiny.
How does one understand the difference between consensus reality and natural law? How do we escape the cultural role models of Betty Crocker and the Marlboro Man? Evolutionary astrology can move you past the traps of the patriarchal priesthood, and these Pluto brothers provide the lucid insights to guide you along the way."
–Chris Lorenz, Dell HOROSCOPE, Sept 2000