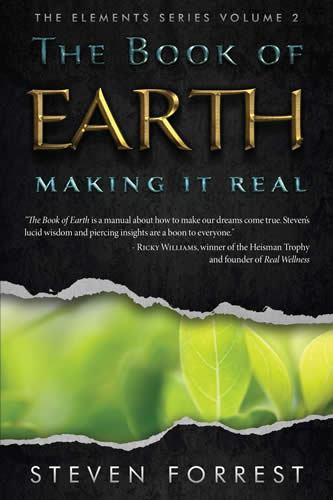 Review by Arlan Wise
Originally published in OPA's Quarterly Magazine Dec 2019
Steven Forrest's The Book of Earth Making It Real is a thorough exploration of the unique qualities of earth element. The earth family consists of the signs Taurus, Virgo, Capricorn; the planets Venus, Mercury, Saturn; and the houses 2, 6, and 10. The work of the earth family is to ground us, to turn dreams into reality, to bring spirit into flesh. Earth accomplishes the "process of sacred manifestation". It is needed in order for us to succeed in accomplishing our purpose in this lifetime. 
Steven writes detailed yet accessible descriptions of the three earth clans. He then demonstrates how to put an earth planet in a sign, in a house, and then " makes it real" by giving more descriptions of those three planets in the twelve signs and the twelve houses. Steven then goes on to show us how to use these planets in transits progressions, and solar arcs. 
Steven's work shows the evolutionary lesson of your specific chart. He gives us new definitions for the signs which encourage different ways of thinking about them. He provides us with new vocabulary to use with our clients to encourage deeper self-examination. He teaches that Taurus is a sign of silence. Virgo is connected with lineage and mentoring. Capricorn is the survival of the fittest. Saturn is "The planet that gives us the ability to do what we do not feel like doing". He has an inspiring take on a Saturn transit – that it is "time to take the next step forward." Since two powerful outer planets are currently in earth signs and will be there for the coming years, this book gives a deeper understanding on what is happening now. 
The second half of the book contains much of Steven's wisdom on how to read and use astrology. His writing has loosened up since the first volume and has become more playful and humorous. He states that he is trying to teach the reader through illustrating his style of thinking. This is evident when he writes about the constant question of which degrees to use for orbs when looking at aspects. Steven speaks with refreshing candor: "How do progressions work? In all honesty, I have no idea." He teaches us that we need earth to make good choices, but states that astrology is about knowledge and self-awareness rather than prediction. He writes: "When it comes to specific predictions, we can only set some boundaries around the possibilities. Beyond that, everything else is some combination of guesswork, probabilities, and common sense." 
The material in the book is collected from one of his four-day seminars. It is a gift to those who cannot attend his teachings in person. Steven includes the handout from the seminar as an aid to learning and review. This book is Volume 2 of his Element Series. It follows the Book of Fire, but reads fine as a stand-alone book. Steven states that the series on the four elements will give an integrated, evolutionary approach to astrology. There is some repetition from the first book when he describes astrological concepts; Steven discusses his dilemma in having to make compromises between saying too much and saying just enough in describing the basics in each book. 
In the chapter on Saturn returns, Steven calls the second return "the initiation into elderhood, a time to experience the joy of generously giving the gift of wisdom to those who are younger." In writing this series, we see that Steven and has indeed become an elder statesman in the field of astrology, and we are all the more fortunate for it. 
We look forward to his books on Air and Water. 
This is a 5+ star book that you want to own so that you can refer to it over and over again.