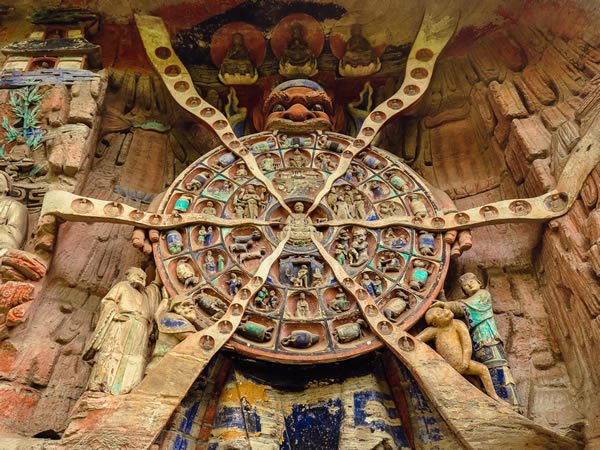 by Steven Forrest
The August 2018 edition of Ed Snow's wonderful Astrology News Service revealed the results of a survey he had conducted among members of the astrology organizations. It turns out that 68.5% of the five hundred astrologers he surveyed accepted the idea of reincarnation, while only a tiny 12% disagreed with the idea.
That so many of us practicing this craft believe in prior lifetimes came as a big surprise to me. Reincarnation is of course fundamental to evolutionary astrology. But, while it is increasingly popular, evolutionary astrology is still a minority voice in the larger context of our profession. I would have imagined that far fewer astrologers were concerned with who they or their clients were in their past lives. But more than two-thirds of us do.
I'll put my obvious cards on the table here first.
Yippee! This is good news!
I sincerely believe in reincarnation myself. At the risk of sounding arrogant, I'll even go so far as to say that I feel like "I know." I love astrology – and the more the practice of astrology is aligned with the truth of life, the happier I will be.
It's a delicate area though. Astrologers aren't preachers.
Here are my less-obvious cards:  astrologers have no business pushing their metaphysical beliefs on anyone. It is in the very DNA of our craft that we celebrate human individuality and freedom.
My own work is very much rooted in the idea of how our present birthchart develops logically out of unresolved issues from prior lifetimes. Still, unless a client has been very clear about personally accepting reincarnation, I always frame the "past life" parts of my readings in more flexible, less preachy, terms. I make a little speech about "ancestral past-lives" living on within us via genetics – and I actually believe that that's at least part of what we see in the chart. I usually add a line about how "maybe that's just the way God made you."
---
Many seekers discover astrology while looking for answers to life's biggest questions: Why am I here? What is my life purpose? Am I destined to live out a pre-determined fate, or can I use free will to do whatever I dream is possible?
These age-old questions capture our imagination and lead to endless speculation and philosophizing. But can astrology provide us some solid answers?
Join 14 of the best Western astrologers on the planet as we explore this endlessly fascinating subject.
---
However we look at it, all of us were born with intrinsic natures. Unless the universe is completely pointless and random, there's a reason for our having those natures. And the "reason" had to come before you had your present chart.
None of this "proves" reincarnation by any means. But these two ideas –  "past lives" and the idea that "there is a reason that you have the chart you have" –  get along like peanut butter and jelly.
Here are a few lines from the first chapter of my 2008 book, Yesterday's Sky: Astrology and Reincarnation.
Two points, however, are objectively certain. A third one flows naturally from the first two:
All who accept reincarnation agree that our present personalities and circumstances are rooted in our previous lives.
All astrologers agree that our personalities and circumstances are reflected  somehow in our birthcharts.
Logic draws us to a third point:
If we accept both astrology and reincarnation, we are compelled to recognize that our present chart must reflect prior-life dynamics—that hidden in our natal configurations are clues, however subtle, about who we were and what we were doing in previous lifetimes.
If we accept both astrology and reincarnation,  no other position is logically defensible.
Again, I would never claim that any of this "proves reincarnation."  But with nearly seven out of every ten astrologers "believing in past lives," it seems like it's time for evolutionary astrology to rule the profession.
I hate talking that way though! I don't need people to think the way I do; I want them to think for themselves.
But, based on Ed Snow's survey, it looks like astrologers "have some thinking to do." Anyone who accepts both astrology and reincarnation cannot long sustain the logic of putting a wall between those two beliefs.
One more point before I move on: when I speak of "evolutionary astrology," what I am referring to is simply the marriage of three disciplines: modern psychology, ancient reincarnational metaphysics, and astrology. I certainly do not intend to refer narrowly to people who work in the style I've been teaching all these years, nor in the Jeffrey Wolf Green style (which is substantial different from mine). I can easily embrace the idea of Vedic "evolutionary astrologers," Hellenistic "evolutionary astrologers,"  Uranian, Cosmobiological, or  Renaissance  "evolutionary astrologers."
In my mind, it's a big tent.
There is much that is appealing about the idea of reincarnation. Simply "not dying" has a friendly ring to it, for starters! And then there's the idea that, despite appearances, there is a kind of unerring justice in the world. That moron who cut you off in traffic or that scoundrel who stole your true love are going to have their days of reckoning. Lovely! Of course you will have your day of reckoning too . . .
So reincarnation is an appealing idea. So is the idea of the dawning of an age of world peace. Or astrologers being lauded and paid what they are worth. Or artists not starving.
Much that is appealing is still not true. What about reincarnation? Are there any compelling objective reasons to believe in it? Obviously, it is a difficult thing to prove, one way or the other.
Ten years ago, when I was writing Yesterday's Sky: Astrology and Reincarnation, I realized that I was asking my readers to take a prodigious leap of faith. That did not seem fair to them. So I began "researching the research" about the evidence for reincarnation, and found there was quite a lot of rational support for the idea.
With Ed Snow's striking survey results still fresh, it seems like a good time to reach out to anyone who is interested in astrology, but has logical doubts about reincarnation. My aim is not to harangue anyone here – only to speak rationally and respectfully to questioning minds.
To that end, I offer an audio version of the second chapter of Yesterday's Sky, entitled Why Believe in Reincarnation? You'll find the recording included in this month's podcast episode above, following this introduction.  
I hope you enjoy it, and learn something from it.
-Steven Forrest
PS Join me later this month (Oct. 27-28, 2018) at the Astrology, Life Purpose and Destiny Summit! 
---
Podcast Version of This Newsletter
---
Facebook Comments