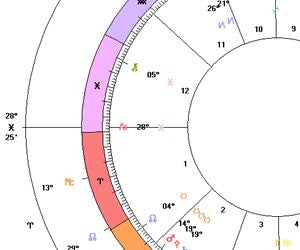 The Problem Calculating Progressed Angles
by Steven Forrest
How to progress the four angles? The question is difficult and in all honesty it lies on the far side of my own understanding of astrology's various spherical coordinate systems.
All the systems I know are based on progressing the Midheaven—somehow—then deriving the current Ascendant based on the latitude of the birth place.
We can progress the MC by Solar Arc. In this method, see how far the Sun has progressed by standard "secondary progression" methods and then add that same number of degrees to the Midheaven. This is based on the familiar day-for-year method of progression. If the Sun has progressed 20° since you were born and your natal Midheaven is at 5° Aries then your progressed MC is currently passing through 25° Aries (5° + 20° = 25°).