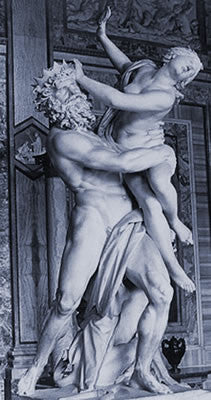 An Interview with Steven Forrest and Jeffrey Wolf Green
by Hadley Fitzgerald, M.A., M.F.T.
This article first appeared in The Mountain Astrologer (TMA), and is reprinted by permission. For Ms. Fitzgerald's bio and contact information, please scroll to the end of the article. For Steven and Jeffrey's definition of Evolutionary Astrology, please scroll to the end of the article, or go to our About Evolutionary Astrology page.
In ancient times, as cultures appropriated one another's deities, the Romans latched onto a god named Pluto as their correlative to the Greek god Hades, lord of the underworld. This god's realm gradually became synonymous with "hell" down through the ages in repetitive cross-cultural mistranslations. We've forgotten that the Greeks commonly referred to Hades by his more popular epithet, "Pluton," the name used in the mysteries to designate the wealth-giver.
"Pluton" is a direct lift from the Greek word "ploutos," which means "riches, wealth, fortune." As in treasure. And it is in the nature of treasure that we do not reach up for it. We must dig down deeply into the netherworlds of our lives and psyches to find the wealth buried there alongside the dark and creepy-crawly things.
Steve Forrest quips that he and Jeff Green have become known in certain circles as "The Pluto Brothers," that the theme from Shaft can be heard in the background when they step onto a stage these days. Both of them have Scorpio rising and Pluto in the 9th house, and everything about their astrological work digs deep and aims high. They re-mind us that the descent into the redemptive darkness is an essential, grounding counterpoint to the New Age "flight into light" that I see at times in my clinical practice. Steven and Jeffrey are treasures, and we are richer for the work they are doing on this Earth.