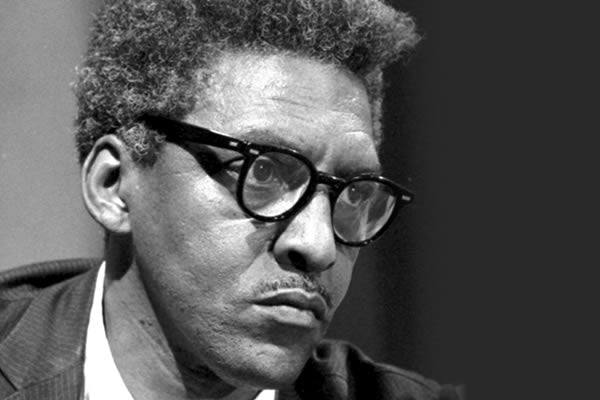 In honor of Black History month, we present a special edition blog post Vernon Robinson, a longtime member of Steven's apprenticeship program. Vernon has identified some great astrological correlations here in addition to shining light on the life of Bayard Rustin, a lesser-known figure of the Civil Rights movement. What's more, he even tracked down Rustin's exact birth time and is sharing that with the astrological community for the first time! Much gratitude to Vernon for sharing this important post.
"A Man Born Before His Time"
by Vernon Robinson
Bayard Rustin was the chief strategist for Martin Luther King's famous march on Washington, but he was also a behind-the-scenes force in various rights movements, including Civil Rights, Labor Rights and Gay Rights. A man born before his time, he was a black, gay, pacifist (WWII), radical at a time when each of those identities worked against the grain of the dominant culture. He believed in changing the status quo to have a more democratic and equal society. Rustin has not been as well-known as other historical figures, perhaps because of his sexuality and the times he lived in, but also because others in the movement considered him a liability. We'll talk about that shortly.
Rustin was born March 17, 1912 in West Chester, Pennsylvania. Born in complicated circumstances, he was the son of Florence Rustin (his sister) and Archie Hopkins. His grandparents raised him and his grandmother Julia was a strong influence, instilling in him her Quaker values. She was also one of the founders of the NAACP so Bayard learned about activism at a young age.
I was able to track down Rustin's actual birth time and am making it available publicly for the first time. This is quoted from his birth certificate by Mr. Walter Naegle (Rustin's partner of 10 years): March 17, 1912 at 12:30 am. Click here for a pdf of all of the charts used in this post. 
Notice that most of Rustin's planets are below the horizon with a Sun-Eris conjunction and Moon-Chiron conjunction, both in Pisces in the 3rd house. This chart structure suggests that Rustin might operate "behind the scenes" and not necessarily take font-and-center role as a public figure himself. For comparison, take a look at MLK's chart, with the Sun on the MC and several planets above the horizon.
---
In this presentation, Steven Forrest uses the progressions in the chart of the United States to fly over two centuries of history. World War Two? Progressed Mars on the U.S. Midheaven. The Roaring Twenties? Progressed Sun opposite Uranus.  The Sun conjuncts Neptune and what happens? The rise of Spiritualism.
As always with evolutionary astrology, our aim is not simply to amaze, but rather to enhance our understanding and add wisdom to our choices. That applies to nations as well as to individuals.  Just like a person, the United States has gotten some things right and some things wrong. 
---
Pisces
His 3rd house Pisces Sun indicates the possibility of perceiving and embodying the oneness of the world. This mystic potential is reinforced by the Sun's trine to his 8th house Neptune in Cancer retrograde.
Notice that the traditional ruler of Pisces, Jupiter, is in Rustin's 1st house in Sagittarius conjunct his Sagittarius Ascendant. This correlates with Rustin's faith in "natural law." His 3rd house Pisces Moon also harmonizes well with his mystic beliefs in regards to the larger forces of the Universe and natural law. This quote from Time on Two Cross: The Collected Writings of Bayard Rustin illustrates my point:
"Nigger," he (policeman in South) said menacingly, "you're supposed to be scared when you come in here (jail)."

Rustin's response: "I am fortified by truth, justice and Christ." I said, "There is no need for me to fear." (1942)
The 3rd house of perception and communication is intercepted here with Aquarius on the 3rd house cusp and Aries on the 4th house Cusp. This area of life would prove to be a major area of focus for Rustin. It's also worth noting that he was a singer with a beautiful tenor voice, wrote various papers on equality and taught many younger activists organizing skills.
Nodes on the Libra-Aries Axis
Turning to the nodes, we see his 10th house Libra South Node and 4th house Aries North Node. And his work involved being very much out in public (although not front and center himself) and dealing with relationships with important figures. His 3rd house Venus in Aquarius rules the South Node, indicating that the relationship may not have been the "norm" for the culture of the time.
His 4th house Aries North Node indicates that Rustin needed to have the courage to face himself, and undertake inner work, and family work, perhaps finding his home among his true family or clan. With Mars ruling the North Node from the 7th house in Gemini, this courage has something to do with his relationships with others. Notice also that the 7th house Mars in Gemini and the 4th house Mercury in Aries are in mutual reception, reinforcing the need to "think for one's self" while still being engaged in relationship dynamics, and the challenges those present.
Emerging Sexuality
Turning to Rustin's biographical events, we'll look at the moment he became conscious of his sexual preferences during a conversation at 14 with his grandmother in which he explained he was attracted to other males. I'm using a transit chart for October 17, 1926 at 5:11 am. This discussion took place under transiting Saturn in Scorpio having just opposed his natal Saturn in Taurus. The transiting Sun in Libra conjunct the natal South Node acted as a trigger, indicating a South Node issue coming into consciousness. Transiting Mars in Taurus was conjunct his natal 5th house Saturn, potentially sparking issues around dating. Rustin's progressed Sun was in Aries, conjunct his natal 4th house Mercury in Aries – time for a challenging talk with family. Transiting Uranus was conjunct his natal Sun, marking an individuation process.
Bayard Finds Clan in NYC
Sometime in 1937 Rustin moved to New York City. This was an important move for him because he was able to find camaraderie and affirmation within an established black gay community. Rustin was able to support himself as a backup singer in Josh White's group and worked with Paul Robeson in a musical. Looking at the solar return chart that that year (the date of the move was not able to be found), transiting North Node in Sagittarius was conjunct the natal 1st house Jupiter and opposing his natal 7th house Mars in Gemini – marking a journey to experience a different cultural frame of reference and relationship encounters, underscored by his progressed Venus in Pisces conjuncting his natal Sun. Transiting Saturn in Pisces was also conjunct his natal Sun, marking an important stage of maturation.
Rustin's Arrest and Sacrifice
Next we'll consider Rustin's arrest on January 21, 1953, in Pasadena, California for "lewd conduct" when he and a few other men were arrested for having sex in a car. This was a pivotal moment and caused Rustin great pain as many in the civil rights community criticized him for allowing this to happened, impacting Rustin's effectiveness as a civil rights leader due to the stigma, both inside and outside the movement. Because of this event, Rustin intentional chose to tone down his sexuality, making a personal sacrifice in support of the greater cause of the movement. The transiting Saturn-Neptune conjunction in Libra was conjunct his natal South Node. Transiting Uranus was quincunx his natal Jupiter, while the transiting Venus-Mars conjunction in Pisces also squared natal Jupiter.
The Montgomery Bus Boycott
In February of 1956, A. Phillip Randolph (Head of Railroad Porters Union, the largest black union in the United States) sent Rustin to Montgomery, Alabama to assist Dr. King with the Montgomery Bus Boycott. Rustin soon became the mentor to Dr. King (Rustin was 44 at the time, Dr. King only 25) and was responsible for introducing King to Ghandi's non-violent protest ideas. It's interesting to note here that both men had natal Mars in Gemini in a square relationship to their Pisces planets.
Rustin eventually had to leave Montgomery, due to threats against his life, but continued to mentor Dr. King through letters and phone calls. Key transits I'm referencing for February 17, 1956 include transiting Jupiter-Pluto in Leo opposite Rustin's MC ruler, natal Venus; transiting Saturn square his Moon; transiting North Node conjunct Rustin's natal 1st house Jupiter; transiting Neptune trine his Moon; transiting Mercury conjunct Rustin's natal 2nd house Uranus in Aquarius, with the transiting Sun in Aquarius conjunct natal Venus and trine natal Pluto as a trigger; and transiting Venus in Aries conjunct his 4th house Mercury. The amount of chart contacts here speaks to a pivotal time in his life.
Rustin and MLK - Bonds of Affection and Intellect
The synastry between Rustin and Dr. King is also interesting. Dr. King's Mercury in Aquarius is conjunct Rustin's 2nd house Uranus while Dr. King's Uranus in Aries conjuncts Rustin's 4th house Mercury – suggesting a dynamic exchange of ideas about social change; Dr. King's Venus in Pisces is conjunct Rustin's 3rd house Moon-Chiron in Pisces, hinting at the likely warm heart-based connection between them; Dr. King's Mars in Gemini conjuncts Rustin's 7th house Mars-Pluto; Dr. King's Pluto in Cancer conjuncts Rustin's 8th house Neptune, suggesting the potential collective impact that we know they manifested. All of this speaks to the positive mentoring relationship between Rustin and King and their good working relationship.
1963 March on Washington
Their relationship came into prominence for the 1963 March on Washington.  A. Phillip Randolph, who conceived the march, appointed Rustin to be its director. In this role, Rustin was responsible for all of the organizational and technical details of the March, including coordinating transportation of the marchers, getting water supplied, making sure everyone was safely and adequately fed (Rustin ruled out mayonnaise on sandwiches as the mayo might spoil during the August heat in DC) and taking care of the sound equipment. Remember, there was no internet back then, so to organize a march of this size all on telephone and paper-based communications was no easy feat.
Rustin's work is one of many important factors that led to Dr. King's iconic speech having such a lasting impact. He had full awareness that it would be the pinnacle moment of the event and structured the march around it.
On the day of the march, August 28, 1963, the transiting North Node was in Cancer, conjunct Rustin's natal Neptune; transiting Sun and Venus joined Uranus to oppose Rustin's Moon; transiting Jupiter trined his natal Jupiter and squared his Neptune; transiting Mars in Libra was conjunct his natal South Node while square Neptune in the 8th house – a public event (10th house) of great power and importance (8th house) that dovetailed perfectly with King's "I Have a Dream Speech" and activated the strong Neptune signature that both men channeled.
Romance and Partnership At Last
In April of 1977, Rustin met his partner of 10 years, Walter Naegle, in New York City.  Same sex marriage was not legal at the time, so to ensure that Naegle would have some legal standing regarding his affairs, Rustin legally adopted Naegle. Transiting Neptune in Sagittarius had just crossed Rustin's Ascendant, conjunct his natal Jupiter and opposing his 7th house Mars. Meanwhile his progressed Venus had spent the previous year conjunct his natal Saturn – I'd imagine the topic of adoption wasn't a flip or easy decision; and the transiting North Node was conjunct his Libra South Node, clearly a powerful and dynamic developmental point in his chart.
On Aug 24, 1987, Mr. Rustin passed away due to complications from an appendix rupture. Transiting Saturn was conjunct his natal 1st house Jupiter while transiting Chiron was conjunct the natal 7th house Cancer Pluto, and a stellium of planets opposed his 9th house ruler, the Moon. Note the interesting synchronicity that Rustin's passing was almost exactly 24 years to the day of the March on Washington.
Rustin's cultural impact – the dramatic Piscean impact of his life and his chart as a whole – may best be summed up in his own words, which closes our exploration.
From a reply to Joseph Beam, a writer and black gay rights activist:
"My activism did not spring from my being gay, or, for that matter, from my being black. Rather, it is rooted fundamentally in my Quaker upbringing and the values that were instilled in me by my grandparents who reared me. Those values are based on the concept of a single human family and the belief that all members of that family are equal... The racial injustice that was present in this country during my youth was a challenge to my belief in the oneness of the human family. It demanded my involvement in the struggle to achieve interracial democracy, but it is very likely that I would have been involved had I been a white person with the same philosophy. Needless to say, I worked side-by-side with many white people who held these same values, some of whom gave as much, if not more, to the struggle than myself."
---
Note: The pdfs of charts attached are run using Porphyry houses, which Vernon uses, while Steven uses Placidus houses. In Rustin's case, this doesn't result in a great variance.
---
Facebook Comments