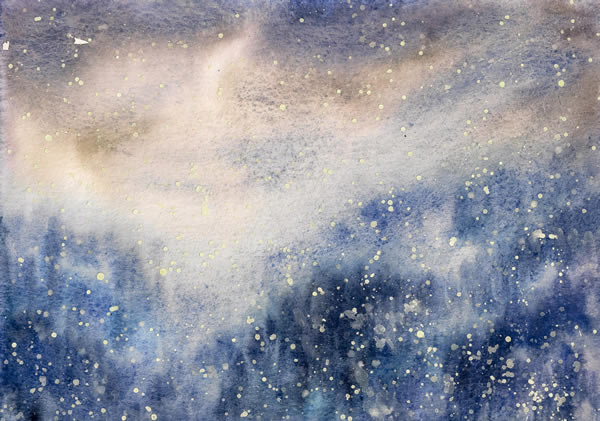 Winter Solstice 2010
As we draw our awareness to the coming winter solstice, we find ourselves in tune with an ancient earth rhythm, marching in time to the beat of ancestral drums. I make a point of gathering with friends at these cyclic annual checkpoints, sharing thoughts about what has passed and expressing intention about what is to come.
If you haven't been to a solstice gathering, I encourage you to create your own. It doesn't have to be elaborate or fancy. Just get some friends together, share some great food, light some candles, and talk about what the year has brought you, and what you hope to create or change in the next one.
Steven's latest work has given us a fresh perspective by pointing out the link between the moon's rhythms and the annual cycles of the solstices and equinoxes.
I personally look forward to bringing some of that symbolism into this year's solstice ceremony.  
This year's winter solstice occurs this December 21st with a lunar eclipse at 29°21′ Gemini.
Thanks for your support and for sharing this newsletter with friends and for liking Steven's Facebook page.
Warm wishes,
---
Tony Howard graduated Summa Cum Laude in history and film from the University of Colorado. His degree turned out to be the perfect precursor to his career in astrology, where his focus includes historical research and chart analysis. His writing has been featured in The Mountain Astrologer and in two Flare anthologies: Astrology, the Next Generation and The Book of Music Horoscopes.
Tony has been researching declination since 2011 and specializes in "out of bounds" planets. He also loves working with and studying aspects, which forms the core of his work with clients. He is the founder of Astrology University.
---
Steven Ruminates About the Year Ending
The Book of The Moon has been selling really well and generating a lot of comment, which pleases me a lot. Two or three years ago, I had been given a generous financial grant by the Integrative Medicine Foundation to write two books. Yesterday's Sky was the first, and it felt to me like a major piece of work – really the culmination of ten or twenty years of research and experience. When I set out to write The Book of The Moon, I was thinking of it as a minor project. The topic of lunar phase had interested me, and it felt worthy of short volume. But once I got into the writing, worlds began to open up. Astrology unfolds endlessly and there are always new tricks and techniques to learn, but with this lunar material I felt like I had discovered an entirely new continent. Lunar phases, both natal and progressed, are vast, powerful symbols – but then really getting into the Moon's Declination was a total eye-opener – again both by its natal condition and by progression.
Right now I am in the awkward position of having to tie this new continent into my existing style of work. I've been at astrology for such a long time that I kind of have my patterned routines of interpretation. They work well, even without the lunar perspectives. But they work even better with them! I am laughing at myself for my rigidity, and busily trying to teach this old dog some new tricks. It's working; my readings are changing to reflect what I learned writing The Book of The Moon.
---
To follow the Moon down into our hearts is a journey into another reality, the interior psychic world, where our souls collide with ghosts from our past. Intuition, the Mother, Family, Healing and being healed - these are all lunar topics. The story unfolds against a shifting backdrop of epochal changes in our cultural relationship to what we were foolishly taught to call "the Feminine," forgetting that men have Moons too!

Steven's newest book takes a fresh look at the moon, including new insight into the moon's phases, the moon's declination and the "out of bounds" moon.

---
Connecting with Wise Elders
Meanwhile, I have been enjoying the very great blessing of meeting and deeply befriending the Jungian author, Robert A. Johnson. He is the author of various bestsellers, such as "He," "She", "We," "Inner Work," etc. Turns out, he is our neighbor here in Borrego Springs, CA, at least part time. He is 89 and he studied directly under Carl Jung. It is meaningful beyond words to have a direct lineage connection with Jung himself. Robert wrote to me, "My time with your explanation of my chart was one of the greatest events of my life and I send a thousand thanks for your kindness in giving me that gift." That endorsement, coming from such a great being, practically put tears in my eyes.
I have also begun to connect in a personal way with the Dalai Lama's Emissary for Peace, Lama Tenzin Dhondren. Both of these connections happened with the transiting north node in mid-Capricorn, crossing my Sun-Jupiter conjunction. And of course the roots of the kind of astrology I teach and practice are basically the collision-zone of Buddhism and Jungian psychology. So old Cosmo is turning those mysterious wheels behind this world, as ever.
The Inner Sky is in the process of being translated in Chinese and will be published there in August 2011. I have been invited to lecture there the following October. Given the role that China is increasingly playing in shaping the world, I am excited to see it. My colleague, David Railley, who has been a successful astrologer for many years in Atlanta has now opened an office in Beijing. He says that the Chinese are really hungry for the kind of deeper astrology we advocate.
I have also finally agreed to speak in western Europe. That will happen in April 2012 in Zurich. We will do a several-day intensive, which will soon be announced here on the website as details are finalized. Ironically, the event is being arranged by one of the coordinators of my Australian Apprenticeship Program, the indomitable Lisa Jones.
Last but not least, in February we plan to shoot a video of me teaching a weekend intensive introducing the elements of evolutionary astrology. It will not exactly be a beginners' class — more like a primer for people who have some familiarity with mainstream astrology, but who are drawn to the deeper evolutionary perspectives. Our web content manager and resident cyber-genius, Tony Howard, has been the visionary behind some of the elegant videos you may have already seen here on the website. He is shooting the class I describe here, and will make it available in various forms during 2011. I am excited to compliment my books and recorded lectures with more material in the video medium, and am grateful to Tony for his friendship and Virgoan competence in digital matters which are beyond me.
Best wishes to all of you in the new year!
Steven
---
New Audio Release
NEW! In this extensive lecture presented to NCGR San Francisco, Steven fully dives into the Sagittarius, Jupiter and 9th house archetypes. With information about how they relate, and how each operates separately, this lecture will give you a firm understanding of this set of archetypal complexes. Follow Steven on a journey exploring Faith Hope and the Wandering Road. Order Now.