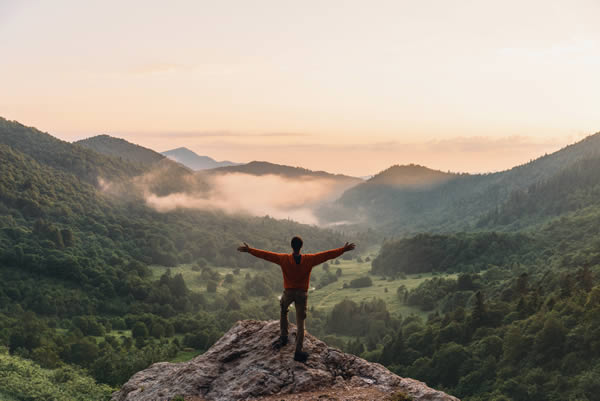 Newsletter December 2018
by Steven Forrest
Jupiter is in Sagittarius now and it will stay there until December 2, 2019. Since Jupiter "rules" that sign – and also famously has dominion over Lady Luck – there's a pervasive tendency among astrologers to view this as an innately wondrous thing, as if all of us can expect an avalanche of winning lottery numbers, true love, and weight loss. 
Fear not:  we are not going to say the opposite! But this big Jupiter event does offer us a chance to think some deeper thoughts about what it means for any planet, and Jupiter in particular, to be "in its own sign."
Here's the simplest way to say it:  when a planet passes through a sign that it rules, it does not become "better;" it just becomes stronger.  The good or bad of it depends, as ever, on how you use that energy rather than on the configuration itself. In that rulership situation, it is as if you are cutting a piece of wood with a hand saw. When you are cutting across the grain, it's hard work. When you are cutting along the natural lines of the grain, it's much easier.  The lay of the grain and the direction of your efforts are in alignment.  
When a planet is in its own sign, it's very much like "cutting with the grain."  You get more bang for the buck. Your efforts go further. With Jupiter in Sagittarius, for example, Jupiter's expansiveness agrees with the damn-the-torpedoes enthusiasm that characterizes Sagittarius.  Jupiter says, "I feel lucky." Sagittarius replies, "Me too."
So what happens next? Maybe a bold move that pays off in a big way.
Or maybe something really, really dumb.
With Jupiter smack in the middle of Sagittarius, the "unsinkable" HMS Titanic hit an iceberg and went down.  A lucky day?  Not for the people who drowned.  Sailing literally "full speed ahead" in darkness in an untested ship into an area where icebergs had already been reported might be construed as an excessive dose of "feeling lucky."  That's the dark side of Jupiter in Sagittarius.
On the other hand, the uber-successful, iconic TV series, M*A*S*H, began its long run on CBS with Jupiter in Sagittarius on September 17, 1972, just a few days before the planet crossed over into Capricorn.  That project worked out splendidly for all concerned. The cast and the production team believed in themselves and bet accordingly. Lord Jupiter loves that kind of pluck.  As they say in basketball, "You miss 100% of the shots you don't take." The M*A*S*H people took the shot, and it paid off.
During this coming year, you should take your best shot too.  But what shot?  More about that in a minute . . .
---
In this extensive lecture presented to NCGR San Francisco in 2009, Steven dives into the Sagittarius, Jupiter and 9th house archetypes - not as the all-in-one approach so often found in astrology books - but consideration of each one separately.
With information about how they relate, and how each has its own qualities, this lecture will give you a firm understanding of this archetypal complex. Follow Steven on a journey exploring Faith Hope and the Wandering Road.
---
Every planet, every sign, every house, every syllable in the vocabulary of  astrology – each one of them is simply a form of energy. Each one has a higher purpose and darker side. When a planet is in its own sign, both possible sides of the coin are magnified. Confidence, faith in one's self, and faith in life – these are beautiful "Jovian" qualities. Without them life is petty and drab.  Think about it: how much faith does it take to look for a new job, to move to a new city, to get married? That's Jupiter!
It would also take enormous faith to believe that you could be the first person  to swim naked across the Pacific Ocean. But that might not be such a good idea. That's Jupiter too.
As is so often the case in life, the critical ingredient with Jupiter in Sagittarius is simply having some brains in your head – although a better word would be wisdom.  Knowing what is truly good for you – that phrase really captures it all, at least once we open it up and really reflect on it. The problem is that people always seem automatically to believe that they  "know what's good for them."  Who, for example, would object to hitting the winning combination of Powerball numbers? Anyone eager to turn down an unexpected $350 million?
And yet, with your wisdom running at full power, are you absolutely certain that that kind of money would actually make you happier?
OK, I'll admit it – I'm practically certain that I personally could handle $350 million just fine.
And I bet you are too.
And that is exactly the part of yourself of which you must be wary as you navigate these exaggerated Jupiter energies over the coming year. Seductive "all the glitters is not gold" risks – along with genuine golden opportunities – characterize our collective karma until next December. 
Not to be too black and white about it, but there is a good chance that in some areas of life, areas spotlighted by transiting Jupiter's position in your chart, you will get what you want  – so make sure that your wanting is wise.  For everyone, Jupiter-in-Sagittarius is a double-edged sword:  make your move, being careful that you do not settle for too little, while simultaneously being wary of hubris, gross over-extension, and your inflated ego grabbing the steering wheel.
It's a question of balance. It's a question of listening humbly to the voice of your own soul – a question of inviting your soul to be the counselor to your ego's appetites.
If you can do that, then get ready for the kind of "luck" that will still feel like luck twenty years down the road.
So much of getting this right comes down to knowing where this Jupiter transit falls in your birthchart.  It is there, in terms of its house position and aspects, that the true nature of  "wise wanting" is illuminated. It is in that part of your life that you need to be audacious, to make your move, to ask for what you want. It is there that you have probably been settling for too little, under-estimating yourself. It is there that you are ready to move to a new level of self-actualization and empowerment.
It is there, in other words, that you truly need – and deserve – a victory.
Just to get you started, let's take a quick stroll through the twelve astrological houses and try to define the area of life in which it is high time for you to "feel lucky," and to just roll the dice.
(Note that unless the sign Sagittarius is entirely intercepted – that is, completely contained within a single house – you will very likely experience this Jupiter transit in two phases as it transitions from one house to the next. Further complicating everything, it may enter the subsequent house, then retrograde back into the previous one for a while before moving on.)
With Jupiter in Sagittarius transiting through your first house, put some shine on your appearance, try to look like you believe in yourself –  and act like it too by initiating some bold, ambitious campaign to improve your position in life. The Force is with you!
With Jupiter in Sagittarius transiting through your second house, we smell money.  Ask for it.  Look for it.  But this transit goes further than your bank account. Beyond money, it is time to look to the entire resource base that supports your dreams.  To go further in life, what talents or skills do you need to acquire? What new tools?  What alliances? If you look for them, you will find them.
With Jupiter in Sagittarius transiting through your third house, speak up. You have something important to say. Don't be shy. Don't let yourself be intimidated by anyone's PhD or air of superiority. Express yourself with panache and verve, and your  voice will be heard.
With Jupiter in Sagittarius transiting through your fourth house, look to your roots and to your nest. Maybe your home needs an upgrade. Maybe your family – and that might mean your actual family or your soul-family – are an untapped source of joy, faith, and happiness for you. You need some quiet time, alone or with them, or both. Claim it.
With Jupiter in Sagittarius transiting through your fifth house, you need a dose of playfulness, joy and celebration. Buy yourself some toys. Take a vacation. You need a more visceral reason to be genuinely happy that you are alive. Look for it – the gift is right there before your eyes. Don't let those old devils – duties and maturity – trick you into missing it.
With Jupiter in Sagittarius transiting through your sixth house, cast a suspicious eye in the direction of your immediate "work-and-responsibilities" environment. How can you make it more pleasant? What new devices or creature comforts might materially lighten your burdens?  Do you need assistance?  Ask yourself why things are more difficult there than they need to be, then boldly seize the solutions no matter the cost.
With Jupiter in Sagittarius transiting through your seventh house, reach out to the people you love and ask them for what you need. In all your relationships, the situation can be improved – and that does not mean that the current situation is "bad," only that it is ripe for a breakthrough and a big step forward. All you have to do is to be bold enough to light the fuse on the negotiations.
With Jupiter in Sagittarius transiting through your eighth house, don't be prim about expressing your sexual needs, desires, or appetites. Regardless of your age, this is also an auspicious time for you to do some spiritual and practical preparation for the end of your life. Don't get us wrong – there is nothing morbid about this transit.  It does not mean that "you will die;" only that the angels of luck and opportunity are here now to support you in your conscious embracing of one of life's primary realities: that it ends.  Much wisdom flows from that single, inescapable reflection.  Write or review your will.
With Jupiter in Sagittarius transiting through your ninth house, dust off your passport or your backpack.  It's time to hit the road, time to see someplace you have never seen before. The opportunity – and the need – to blow out some cobwebs is upon you. You may be busy, but behind the screaming buzz of life, the fact is that you are bored with your predictable routines. And you don't need to be! There's a treasure waiting for you beyond the far horizon.  Go seek it.
With Jupiter in Sagittarius transiting through your tenth house, you are ready to graduate to a new station in terms of your place in the community. Step up to the stage and occupy it.  You are ready, and they need you. It is always helpful with the tenth house not to limit our attention to "career" in the narrow sense – although, by all means, this is a splendid time to ask for a raise or a promotion at work. It's bigger than that, though. There is great satisfaction in offering a gift to your community, even if no paycheck is involved. The critical element here is that the community, whether it knows it or not,  is eagerly awaiting you.
With Jupiter in Sagittarius transiting through your eleventh house, raise the level of your long-term plans and your strategies for fulfilling them to reflect the fact that your are better, stronger, and wiser now than you were a year or two ago.  You have outgrown your old priorities. You are capable of more, and your old dreams no longer mirror the true reality of your capabilities. Once you've got your new aims defined, seek alliances that improve your strategic  position. Good people are going the same direction as you are. Look for them; they are there. You can help each other.
With Jupiter in Sagittarius transiting through your twelfth house, the "wisest wanting" you can possibly have now is for some quiet, reflective time. You have come to the end of a major cycle of experience. What's next? The beginning of wisdom lies in realizing that you have no idea! Angels are trying to whisper in your ears. They have some precious advice for you. The thing is, to hear angels whisper, you have to become very, very quiet . . . 
I hope these brief word-pictures help you prosper during the coming year. Full astrological understanding can only come in an integrated reading that includes a deep sense of your birthchart and a big-picture view of the rest of your transits and progressions. Maybe you can do that for yourself, or you can consult a professional evolutionary astrologer, or just bounce ideas and interpretations off your trusted astrological friends.
In all cases, with Jupiter in Sagittarius, keep your eye on the truest prize of all: not simple glitter, but the actual reality of your soul's maximal evolution. That's what it is all about.
---
Listen to this newsletter as a podcast