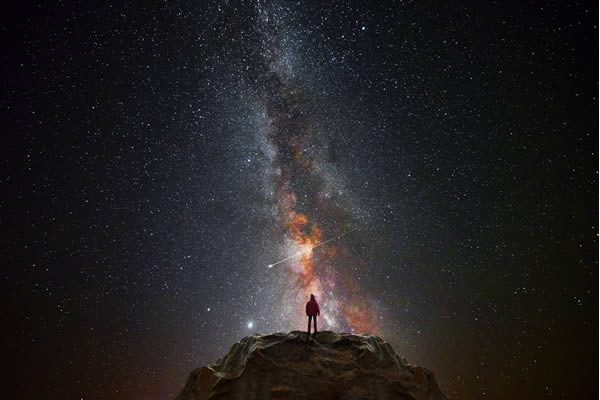 Everyone with an interest in astrology soon learns about how particular planets rule certain signs. To many astrologers, that makes them automatically "good." To those same astrologers, for a planet to find itself in the opposite sign is unfortunate. The term they use there is "detriment" – obviously, not such a good thing. This common notion is simply incorrect, in my experience. The error is easily proven too. The infamous Yorkshire Ripper had a really "good" Mercury – in Gemini, conjunct his Gemini Sun. I suspect he excelled at talking his victims into vulnerable positions. Meanwhile, Rev. Martin Luther King had a "bad" Neptune – in Virgo, the sign opposite Pisces, the sign it naturally rules. Did that mean he had no spiritual life or that he lacked a visionary imagination?
Instead of calling it "good" when a planet is in the sign it rules, I find it is much more accurate to call it strong. But is strong the same as good? When a planet is in the sign it rules, they agree with each other. There is no friction. Their energy flows like a geyser, no questions asked. Conversely, when a planet is in the opposite sign – in detriment – it must deal with complexity and paradox – and that is not necessarily such a bad thing. Can we fight for peace? Ask Mars in Libra. Can questioning and doubting ourselves be a path to greatness? Ask Jupiter in Virgo. What about questioning our own beliefs from time to time? Ask Mercury in Sagittarius.
A while back, I made a video about this subject called The Grace in Debility. Click here if you would like to buy a copy of it. The video version is $15 and the audio only one is $10. In this newsletter, I want to tackle a very similar subject, albeit one that is not as widely known: the notion of planetary exaltation and planetary fall. It is not quite the same as rulership and detriment, but there are many parallels – including the widespread, unhelpful notion that exaltation is good news and that a planet occupying the sign of its fall automatically spells bad news.
As we just saw, when a planet is in the sign it rules, there is a very straightforward agreement between the two energies – Jupiter says "I feel lucky" and Sagittarius chimes in – "I bet there are no bears in that cave." With exaltation, the situation is a bit more subtle. In essence, the sign has the effect of underscoring some specific potential strength in the planet – or similarly, of correcting one of its blind spots. The planet is therefore uplifted – "exalted," if you will.
Before I dive into all of that more deeply, here are the traditional exaltations and falls:
The Sun is exalted in Aries – and has its fall in Libra

The Moon is exalted in Taurus – and has its fall in Scorpio

Mercury is exalted in Virgo – and has its fall in Pisces
           (Note: this is the same as its rulership/detriment)
Venus is exalted in Pisces – and has its fall in Virgo

Mars is exalted in Capricorn – and has its fall in Cancer

Jupiter is exalted in Cancer – and has its fall in Capricorn

Saturn is exalted in Libra – and has its fall in Aries
Technically, there are often specific degrees given within each of these signs for exaltation and fall – for example, the Sun is said to be exalted (or particularly exalted) in the 19th degree of Aries. Make of that what you will. Those traditions go back to the sidereal astrology of the ancient Babylonians. Often in practice, it is simply the sign position that counts.

These are archaic ideas, and I am happy to leave the technical arguments to the traditional astrologers and astrological historians. Speaking of which, because the roots of these ideas are so old there is inevitably controversy among the traditionalists over what to do with planets discovered in more recent times – Uranus, Neptune, and Pluto. Some say they are simply never exalted, nor are they ever sign rulers. Others give Uranus to Scorpio, Neptune to Aquarius – and, from what I have read, they seem to let Aquarius, Pisces, Leo, and Virgo fight it out over Pluto.

In this newsletter, I am going to stick to thinking about the traditional planets. Also, just to be clear, my aim is not to squabble with scholars of astrological history, but rather to attempt to modernize our understanding of exaltation and fall, and to place it in an evolutionary context. 
Again, our key concept is that with exaltation, the sign has the effect of underscoring some specific potential strength in the planet – or similarly, of correcting one of its blind spots. Meanwhile, when a planet is in its fall, it is invited to become more conscious and mindful relative to one of its main potential weaknesses, and therefore wiser.
Let's go through the classical planets one by one, and contemplate them through this more modern, evolutionary lens.
THE SUN – Exalted in Aries; Fall in Libra
Everything revolves around the Sun – and sometimes you have a right to expect that everything will revolve around you. "Sometimes" is the key word there! But you do have a right to insist. You do have a right to say no. You have a right to take up some space and to claim some resources. Sun is basically "ego" – and ego, while it presents obvious dangers, is as necessary to your spiritual well being as your lungs are to your physical wellbeing. We all have to stand up for ourselves from time to time. The basic assertiveness of Aries enhances and supports these qualities in the Sun, while the empathetic willingness of Libra to prioritize keeping other people happy can get in the way of doing that. Meanwhile, a little Libran awareness of other people's needs and natures can temper the potential for mere egoism that is inherent in the Sun – there's the brighter side of the Sun's "fall" in Libra.
THE MOON – Exalted in Taurus; Fall in Scorpio
We normally relate the Moon astrologically to our emotional lives. That's true, but the Moon is also deeply conditioned by our instincts. Taurus, meanwhile, of all the signs is the one that lies closest to our "animal natures" – the instinctual part of us that just knows things without having to think about them too much. Sometimes, for example, "we just have a bad feeling about somebody." Most of us have learned that it is savvy to trust that feeling. Taurus underscores a kind of wise, reflexive simplicity in the Moon, bringing out the best of it, while avoiding Scorpio's tendency to overthink and over-psychologize. Meanwhile, Scorpio's willingness to ask the hard questions can counter the lunar tendency to "keep getting on with the past." Maybe the reason you have a bad feeling about certain people has nothing to do with them. Maybe they could actually be good for you – but they remind you of your father, with whom you have unresolved psychological issues. There's that Scorpionic psychology potentially correcting the Taurean need to keep things simple.

MERCURY– Exalted in Virgo; Fall in Pisces

The situation is messy with Mercury. Astrological tradition is adamant about Mercury being exalted in Virgo – weirdly, one of the same signs it rules. Some astrologers have said that Mercury has no sign of exaltation at all. Growing up, I learned from the old British astrologer, "Sepharial," that Mercury was exalted in Aquarius. That actually makes more sense to me, but it does cut against the grain of tradition. Virgo brings out a quality of disciplined precision in Mercury, correcting its tendency toward scattering its focus. In 'fall," Pisces can indeed blur the Mercury-mind with fantasy and confusion – but it can also inspire it with insights that "come out of nowhere." All that is true – but all of it just sounds like rulership to me.  Personally, I do prefer assigning Mercury's exaltation to Aquarius in that it "underscores a specific strength" in Mercury, which is its ability to think for itself. Another way to say the same thing is that Aquarius "corrects a Mercurial blind spot," which is to forever be "the good student," echoing what it has been taught to echo. Meanwhile, Leo likes the applause that often follows that "echo," and might prefer it over the lonely path of truth. More positively, Leo can add self-expressive style to Mercury which helps to get its voice actually heard.

VENUS – Exalted in Pisces; Fall in Virgo
Getting married a second time is often described as "the triumph of hope over experience." Cynics may chortle, but how would human love survive without hope – or faith, to use a similarly Piscean word? The romantic drives of Venus are supported by the sheer soulfulness of Pisces.  The transrational Piscean faith in the idea that "that we were born to be together" has helped many a couple through hard times. Meanwhile, it is easy to see how Virgo's tendency toward endless fault-finding can erode Venusian love  – hence the idea that Venus has its fall in Virgo. On the other hand, Virgo's realism, humility, and sense of responsibility can balance the Venusian tendency toward unreachable, unsustainable romanticism.

MARS – Exalted in Capricorn; Fall in Cancer
The passionate, even belligerent, do-or-die intensity of Mars derives a lot of benefit from Capricorn's sense of long-term, eye-on-the-prize direction. In this planetary exaltation, Capricorn is not so much the "brakes" on Mars's hotrod as its steering wheel or navigation system, thus correcting the potential Martial blindspot of blind, passion-driven attack. Cancer, on the other hand, is self-protective and gentle. Those are two qualities which can potentially stymie bold, decisive action – and  there's the fall of Mars in Cancer. But let's also remember that Cancerian mercy can correct the Martial potential for cruelty, adding nobility to the "warrior." Going further, at a purely Mars level of warlike thinking, never forget that many a battle has been won by a good Cancerian defence. Victory is not always about offensive capabilities.
JUPITER – Exalted in Cancer; Fall in Capricorn
Jupiter is the king of the gods and historically kings have come in a variety of flavors. We've had despots and tyrants galore, but we've also had good kings – monarchs whose reigns were characterized by generosity, justice, and caring attention toward those who were most vulnerable or disadvantaged. Reflecting on these simple observations, we can see how Jupiter's "drive to reach the top" can be uplifted by the nurturing, sensitive qualities of Cancer – and meanwhile how Capricorn's tendencies toward ambition, control, and mechanical efficiency can bring out the worst in the planet, leading it to "a fall." Still, if you want to reach the top in any area of human endeavour, some healthy Capricornian focus, realism and discipline can help to keep your plans grounded and your ambitions in the reachable realm. There's the grace in Jupiter's fall in Capricorn.
SATURN – Exalted in Libra; Fall in Aries
Perhaps above all, Saturn is about good judgement. It is the planet that helps us to navigate effectively through the labyrinthine complexities of what we call the real world. Success there  calls for reason and caution, along with a sense that every story has two sides. Libra's openness to life's ambiguities and paradoxes helps here in obvious ways, assisting Saturn in being prepared for the unexpected. Going further, many of those "labyrinthine complexities" we face in life are in fact generated by our interactions with other people – and there is where Libran diplomacy and its ability to size other people up can really underscore Saturn's exaltation in this sign. Meanwhile, Arian "storm the gates" injudiciousness can lead Saturn to "a fall." On the positive side, with Saturn in Aries, sometimes to get anything done, you do just have to roll the dice . . .
Those are my evolutionary takes on the exaltations and falls of the traditional planets. We are miles from labeling anything as inherently lucky or unlucky, but instead, as ever in evolutionary astrology, we are trying to understand the energies and determine how they might be employed as consciously as possible. As usual, these interpretations are different from what one might read in Al Biruni, any of the traditional Jyotish texts, or on cuneiform tablets from Babylon. Test them in your own life, and see if they work for you. As ever, that personal examination, rather than historical treatises, is the proof of the pudding. 
Facebook Comments