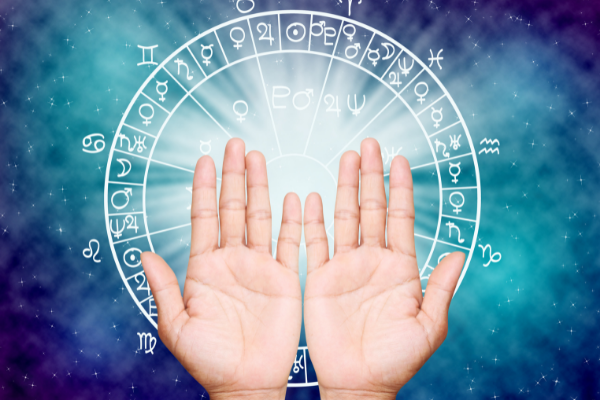 Here are the first 39 astrological words that I ever published anywhere outside of my local community: "Back in the fifties when I was a little boy, I once put a quarter in a vending machine inscribed with paintings of various improbable creatures. Out came a packet describing the traits associated with my Sun Sign, Capricorn." Those are the opening lines of the foreword to my first book, The Inner Sky, which came out back in summer 1984. The text went on from there: "the message was that I was shy and uptight, but that while no one would ever be very excited about me, I could console myself with the knowledge that I would probably get rich."
Those were hard words to read at the tender age of ten or so! The worst part was that they sort of halfway fit me, at least back then. Famously, far worse than a lie is a half-truth – they can be far more seductive. I doubt I was the first person to be hurt by that kind of pigeon-holing pop astrology. Somehow I think it planted an aspiration in me that I would be among the last.
Bantam Books publishing The Inner Sky naturally opened a lot of doors for me. Miraculously, even though the book came out nearly forty years ago, I still believe pretty much every word I wrote in those pages. What I regret is not something I wrote, but rather what I did not write. And here it is in a nutshell: If it were not for that vending machine and its depressing message about Capricorn, I might never have become an astrologer. For all its many flaws, I cannot escape the fact that silly Sun Sign astrology gave me a start on the life I live today. I should be more grateful to it, whatever damage it might have wreaked upon my developing psyche. Even though that little packet about Capricorn was rigid in its delineation of my nascent personality and discouraging about my fate, it contained enough kernels of truth that I was intrigued. 
As I suspect is also the case with many of you, the seeds of my interest in astrology had to fight their way into my life through the tangle of religious, cultural, and scientific barbed wire. For me,  that was amplified by me being an academically promising little boy in the strait-jacket culture of the late 1950s. Worse, for astrology to take hold of my imagination, the smattering of wisdom in that 25-cent packet had to fight against its own pandemonium of obvious errors. Looking back, it is a miracle that astrology won. 
But it did. 
Dimly, I was aware back then that astrology existed. I was also aware that camels existed, that Uzbekistan existed, and that the Andromeda galaxy existed. Astrology was in there somewhere, lost in that same crowd. It was real I guessed, but "none of my business." Sun Signs were all I knew about anyway – given the times, Sun Signs were astrology. I had no idea that there was anything more to the system than that. 
It's not that serious astrology didn't exist back in those times. It did. Dane Rudhyar's The Astrology of Personality had been published in 1936. The British Theosophical astrologers who would later have such an influence on me – Charles E.O. Carter and Ronald C. Davidson primarily – were in full cry. But how would a kid from a working class family in an ethnic neighborhood in New York, with no college graduates, plus all of the indoctrination implicit in conventional public schooling, plus church-on-Sunday religion have ever had the chance to hear of any of them?
To this day, I couldn't tell you what compelled me to place my hard-earned quarter in that vending machine. All I know in retrospect is the fact that in doing it, I changed the course of my life. 
People make fun of Sun Sign astrology. I've made fun of it myself. Its generalities are painfully obvious. How helpful can it be to divide all of humanity into twelve types? It stands in relation to serious astrology the way your first crush in Middle School stands in relation to a decades-long marriage between two deep souls. Still, for all their limitations, Sun Signs are astrology's Welcome Mat. If it were not for Sun Sign astrology, today our craft would occupy a position similar to alchemy, cloud-reading, and divination by animal entrails. 
After The Inner Sky came out, I was offered a chance to write a monthly Sun Sign column for a teen magazine called Sassy. I did that for a while – for the money, and perhaps for penance too. A bit later, for eighteen months or so, I wrote the Sun Sign column for Elle magazine – and with a few million readers per month, I guess that was the height of my worldly fame. 
Neither of those writing gigs were really good fits, even though the paycheck was nice. I made my own philosophical peace with telling readers "what's in store for Taurus this month" in two ways. First, angels whispered in my ear and said "keep freedom in it." In other words, I tried to strike a blow for the kind of astrology I actually believed in by writing these Sun Sign columns as a counselor, not as a fortune teller. Even with Sun Signs, you can do that. 
The second way I made peace with writing them was that it was a way for me to thank that little packet about Capricorn for inviting me to the party in the first place. Maybe my columns would invite some other people too, especially if I could make the language empowering rather than fatalistic.
Uranus and Neptune formed their epochal conjunction in the early 1990s. The entire myth of the world entered a new phase. One face of the cultural change was that suddenly everyone seemed to have a computer, email, and access to the Internet. Around then, out of the blue, I was approached by Matrix Software to write the text for something that would not have even been possible only a few years earlier – a personalized, computerized birthchart report, complete with descriptions of all the planets in their individual positions. That became The Sky Within. It was soon followed by SkyLog which did the same thing for transits and progressions. Both are still available on my website. 
What really opened my eyes with those reports was the paradigm shift that the digital revolution was creating in the world of astrology. Previously there had been a very wide gap between, on one hand, knowing a bit about "being a Cancer" and, on the other hand, exposure to serious, professional astrology. Now, with these "report writers," we finally had a way to place some stepping stones between those two distant worlds. For a small fee, people could learn about their Moon sign, their Mercury, their Jupiter, and so on. Even better, these reports were not only inexpensive, they also let people avoid the considerable psychological hurdle of picking up their telephones and dialing an astrologer they found in the Yellow Pages of their phone books – and if you think my language is dated there when I speak of phones books and Yellow Pages, you are right. Remember: we are talking about the 1990s, when the digital revolution was just beginning to gather steam. People still had landlines and everyone knew what the Yellow Pages were.
Nowadays, three decades after that epochal Uranus-Neptune conjunction, the world is utterly different. The Internet, Zoom, and social media have, if not created an astrological renaissance, at least supported it in mission-critical ways. Between learning that "I am a Gemini" and actually sitting down with a competent professional astrologer there is now a vast tangle of possible freeways. I've got to say, some of those freeways can lead you right over a cliff. But many are solid, or at least reasonably so. Out there in cyberspace, it may be "the wild west," full of fledgling, know-nothing astrologers making extravagant claims of being "the greatest." Still, I don't worry and I try not to judge. Skill has a way of rising to the top, just like cream. That's eternal. Microchips can't change that.
"Instant astrology" will always be shallow astrology for one inescapable reason: the human psyche is complex. You can't "Tweet" anything very meaningful about it. I love the in-depth seriousness, for example, of sitting down with a book. Still, being attached to physical paper seems like the wrong battle to fight. I am attached to serious content, not to any particular medium. Personally, my main motivation remains teaching and writing about "maximum astrology" – hence my books and my online school (www.forrestastrology.center). 
Despite that serious focus, I do still feel drawn to adding more of these stepping stones – making the transition to the deepest forms of astrology as welcoming, inexpensive, and easy as it possibly can be. That's one reason I am so excited about LILA – an astrological cell phone application for which I have done most of the actual writing. We have a big, competent, diverse team. Former National Football League legend, Ricky Williams, is a huge part of it, and he's now an esteemed astrological colleague with a busy practice. The AstroTwins, Ophi and Tali Edut, have lent us their vision and have become good friends. They are both younger than me, but we were happy to see that all three of our Jupiters are tightly conjunct – and dazzled to realize that, like me, they had cut their own teeth writing first for Sassy, then for Elle. What are the odds against all of that?
LILA is available in free "beta-testing" form now. You can find it on your iPhone – sorry, no Android yet, but that's coming. You can also visit our website at www.heylila.com. We're getting close to an official launch. We'll always have some cool, welcoming features available for free – and some better, more personalized ones for a monthly subscription fee. 
Our aim, of course, is to be the best astrological cell phone app out there – and to provide yet another easy transition between Sun Signs and the big step of eventually establishing a relationship with a living, breathing astrologer whom you trust. That, to me, will always be the gold standard in our sacred, healing art. On the way there, I just want to make sure that we actually build bridges that welcome all the people we might eventually help in deeper ways.
That's because, if they don't know we are there, what good are we? 
And for me, that knowing started with a little 25-cent package in a vending machine somewhere in New York around 1959. My, how the world has changed! And my, how it hasn't.
Listen to the podcast version
Facebook Comments