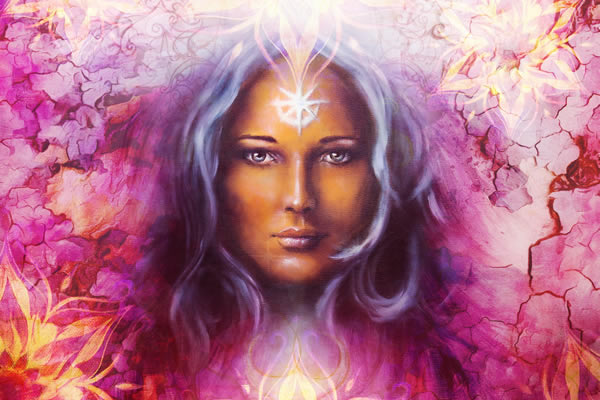 by Steven Forrest
There is a growing group of humans on the earth who have turned their backs on religion while maintaining a personal connection with the divine. Sociologists label them "spiritual but not religious," which seems like a fair enough term. The category is an emerging one since there has not been much precedent for it in history – as with so many truly new things, you first have to believe it before you can see it.
For a long while, in other words, there was no "spiritual but not religious" box to check on anyone's survey.  It was strictly, are you a Christian, a Muslim, a Jew, or a None of the Above?
Behind this cultural development, there is a lot of astrology. And it is the kind that suggests a lasting sea-change rather than a passing fashion.
We will get to the astrology in moment. But first, let's put a few facts on the table. I apologize for the United States bias here, but that is my only source of concrete evidence. We will just use that as a launching pad. I suspect the results are fairly generalizable, at least in the industrialized world.
A 2017 survey by the Public Religion Research Institute (PRRI) found that 18% of Americans put themselves in the  "spiritual but not religious" category. In 2012, the Pew Research Center announced that the number of Americans who "do not identify with any religion" had grown from 15% in 2007 to 20% in 2012, with that number continuing to grow. Significantly, while that was true of 21% of so-called "Generation X" folks – those born between 1965 and 1980 – it increased to 34% among a younger group of "Millennials," born 1990–1994.
Whatever is happening here, the tide is definitely rising.
Behind these numbers I believe that what we are seeing astrologically is the interaction of two factors, one of them huge – and the other one, even bigger than that.
Factor number one is the long transit of Neptune through its own sign, Pisces.
Factor number two is our collective entry into the Aquarian Age.
History demonstrates that the first – Neptune in Pisces – can always be relied upon to trigger a spiritual awakening, while the second promises a strong flow in the direction of individuality, independence – plus a suspicious attitude toward any kind of "group-think."
These are both vast topics and I can only breeze through them in this present  context. For a fuller exploration of Neptune's passage through Pisces, here's a link to a two-hour talk I gave about it.
---
With all the recent astrological focus on Uranus and Pluto, it is easy forget that mystical Neptune will be a major part of the mix for the next thirteen years. As the planet of dreams and visions enters the sign of its modern rulership, its impact on everyone becomes more powerful. What will Neptune's passage through Pisces add to the current cultural mix?
In this talk Steven Forrest explores the idea that the tensions of the current world situation will soon propel humanity in a new and more spiritual direction.
---
You might also try chapter 34 of The Book of Neptune, which deals in more depth with the same subject.
The transition into the Age of Aquarius is a complex and controversial topic – and one of my favorites. Here's a link to a 90-minute talk I gave about it.
---
Based on the slow Precession of the Equinoxes, every couple of millennia, humanity enters a new mythic season with new potentials and pitfalls. There is controversy about exactly when the Age begins; follow Steven as he attempts to answer the question and unravel the riddles of our social and cultural future.

---
I should also say that Tony Howard is currently editing the video of a longer, deeper presentation I did about the topic last year in North Carolina. It is called "Generations," and I look forward to it becoming available.
Let's take these two factors one at a time, starting with Neptune.
Neptune criss-crossed the Pisces boundary in 2011-2012, finally settling solidly on the Pisces side on February 3, 2012. Right now, we are about midway through the transit. In 2025, Neptune moves in and out of Aries, not putting Pisces fully behind it until January 26, 2026.
With all the noise and horror in the world today, it is easy to miss the history-shaping impact of this epochal transit. It happens every 165 years, and it always changes everything.
In a nutshell, when Neptune is in its own sign, its influence simply becomes stronger. A way of saying it is that everyone on the earth is currently going through a major Neptune transit, even if that is not obvious through any aspects in their personal chart. As with everything astrological, Neptune being in the spotlight means good news, bad news, and all the possible news in between. Escapism and addiction abound – there is the astrology behind the opioid crisis, for example. Delusion and madness are having a heyday – conspiracy theories are everywhere, world leaders seem to have lost their marbles, and we are worried about Kim Kardashian while the Earth's climate reaches the boiling point.
But behind all of those dark Neptunian effects, a spiritual renaissance is quietly changing the way we look at the world. It is not about an explosion of peace, love, and understanding sweeping across the earth. Rather, it is a renewal and a reconfiguring of the human relationship with the mysteries. Spiritual leaders are being empowered, and they are finding receptive, ready students and disciples. Healers and diviners are rising up. Yoga teachers are emerging as lamas. We have shamans in the suburbs and visionaries on street corners. Everywhere, people are hungry, ready for something real, ready for a visitation of raw spiritual energy.
As ever, Neptune must interact with specific cultural realities. Each of its passages through Pisces has been a distinct event – but the effects are always palpable, and often dramatic.
Let me prove it to you by quickly hitting just a few historical high points.
Neptune entered Pisces in 47 A.D. as St Paul was bringing Christianity to the Roman empire.

There are various tellings, but the standard version is that in about 58 AD, Emperor Ming-Ti introduced Buddhism to China.

In either 538 or 552, depending on who you read, we saw the official introduction of Buddhism to Japan.

Here's a big one, maybe the most impressive event of all. Neptune was in Pisces from May 701 until February 716. The year 711 brought the Islamic invasion of Spain and the establishment of the Moorish culture there. A year later, in 712 AD, a Muslim state was established in what we now call Pakistan. The truly amazing thing is that by 715 AD, a Muslim empire stretched all the way from the Pyrenees to China, with Damascus as its capital.

Neptune was back in Pisces between March 1520 and the end of 1534. Martin Luther had posted his "95 Theses" in 1517, with Neptune still in Aquarius – and in 1521, he was condemned as a heretic and excommunicated, setting into motion the Protestant Reformation.

The last historical time Neptune entered Pisces was April 1847, only crossing finally into Aries in October 1861. The correlations here are dramatic too.

Spiritualism

—which involved communion with the dead and with beings in other dimensions—swept through the English-speaking world. Arthur Conan Doyle, of Sherlock Holmes fame, became a major figure in the movement — a movement that attracted Abraham Lincoln, as well as Queen Victoria and Prince Albert. Numbers vary, but one report I read informed me that in 1850, out of an American population of about twenty-three million people, eleven million of them claimed membership in a spiritualist church.
Now we are in the Neptunian soup again. As ever, it is difficult for a fish to describe the sea – but I think that the "spiritual but not religious" movement is a big part of how it is playing out this time.
Here is another idea, one that is closely related: there is an emerging recognition that beyond all theological differences lies a universal truth – one that beggars human intelligence and escapes all definitions. Another way to say that is that words such as "God," "Allah," "The Force," the "Dharmakaya," and so on all mean the same thing. As a the Zen Buddhists say, they are all just "fingers pointing at the Moon." A Muslim at prayer, a Christian at prayer, a Hindu at prayer – all are experiencing a similar Presence.
Statements such as these still infuriate some people – but try this: they are more likely to infuriate old people than young people. Rings true, doesn't it?
The times they are a-changing.
Now let's add the Age of Aquarius to the mix.
The position of the Vernal Equinox slowly retrogrades against the starry background, taking 25,772 years to make the complete circuit of the zodiac. This, by the way, is the source of the frequent headlines about how "your sign is wrong."  Not to get too windy about it, but there is Western astrology, which is generally based on the seasons – Aries being defined as where the Sun is on the (northern hemisphere) Vernal Equinox – and there is Vedic astrology, which is based on the actual constellations. The former is called "Tropical" astrology and the latter, "Sidereal" astrology.
One serious complication in thinking about astrological ages is that it is a classic "apples-and-oranges" situation: we are mixing these two kinds of astrology, and they do not mix easily. We are relating the position of the (tropical) Vernal equinox to the (sidereal) starry constellations.
The Vernal Equinox will not enter the constellation Aquarius for another four centuries or so. Who says? The answer is the International Astronomical Union which arbitrarily defined those star-boundaries about ninety years ago.
I am not sure that they were speaking for God.
A further complication is that these official I.A.U. constellations vary enormously in size, while astrology operates as a system with twelve equal signs. When I think of the astrological ages, I take that complete cycle of  25,772 years and divide it up into twelve equal segments, each 2147.5 years long.
So when did the age of Aquarius begin?
Trying to solve the problem astronomically leads directly to confusion, unless we accept the divine authority of the International Astronomical Union – something I see no reason to do.  Normally in astrology, we look to the heavens in order to clarify what is happening here on Earth. In this case, I recommend solving our problem by doing it the other way around: in order to try to figure out what is going on in the sky, let us look to events on the earth.
In some of the other "Age of Aquarius" programs I have mentioned, I go into all of this a lot more deeply. But here is my favorite line from those programs: we went from Kitty Hawk to the Moon in sixty-six years.
That sure sounds like the Aquarian cusp to me. Without being rigid about it, I like to set the Aquarian boundary around 1903-1905, to coincide with the Wright Brothers first flight and Einstein's publication of the Special theory of Relativity: two events which epitomize the brilliance, rebellion against norms, technology, and impatience with boundaries which so beautifully characterize the spirit of the sign Aquarius.
This really is a labyrinthine subject, but for our purposes here, let me make one simple point. While under the sway of the sign Pisces, there is a powerful urge to dissolve into something greater than ourselves. As we retrograde into Aquarius, the orientation and underlying agenda shifts dramatically: no one wants to dissolve into anything anymore. No one wants to disappear into a nation, a marriage – or a religion. It is an age of individuality. We are a salad, not a melting pot.
And what do we see? Marriage has become unstable. Families are breaking up or scattering across the landscape. There are far more nations on the earth now than there were a century ago. Societies feel increasingly fragmented. Everyone seems to be part of some "minority group."
And religion is increasingly losing its hold upon individual conscience.
It would be naïve simply to celebrate all this; it is far more complicated than that. As with everything in astrology, there is a dark side to the age of Aquarius. There are shadows and there is light. As ever, humanity – and each one of us as individuals – will have to find our way through this tricky new energetic landscape.
Never before in recorded history has Neptune's passage through Pisces coincided with an Aquarian age – remember, the last one started twenty-six thousand years ago. Spirituality will not die, but it will change, adapting to a new – and far more questioning, doubting, and individuated – way of being human.
"Spiritual but not religious" is one expression of this emerging change. Undoubtedly there will be others. How exciting! We are all surfing this breaking wave, creating the roots of a planetary spiritual culture that will last for two thousand more years.
---
Listen to the Podcast Version of This Newsletter