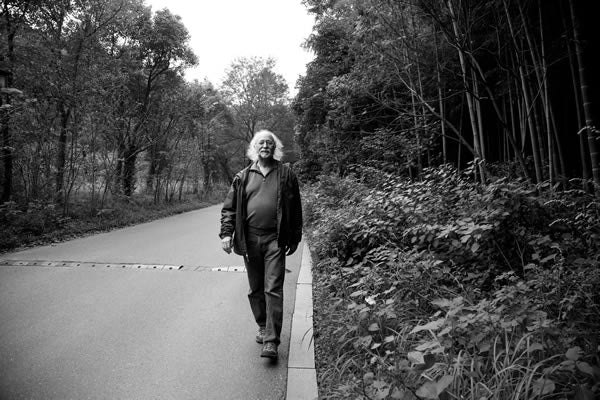 by Steven Forrest
Call me old-fashioned, but in this age of digital relationships, I like to ring the bells for the magic of good old face-to-face, eye-to-eye human contact. That is especially true when I am teaching astrology. Something special happens between my students and myself in my classes, something beyond what is available in any other way. My favorite way to say it is that, unlike the digital world, life is composed of more than audio and video tracks.
I think of a treasure: my friendship with Robert A. Johnson, the great Jungian writer and thinker. I had read all his work avidly. It had sunk into my own thinking and had made a real impact on the way I practiced astrology. But when the fates brought us together as neighbors a few years ago, I felt that I understood his work in a much more multidimensional way. It had already entered my mind; but after getting to know him, it sunk into my heart.
Why? How could that happen? Something radiated from Robert – something that set up resonances between his soul and my mind. And what passed between us could not have been recorded on any digital device.
Humans have been teaching and learning from each other in this mysterious way since the beginning of our time on the earth. For all the wonders of electronic communication, there is something about "skin" that just goes deeper.
I am proud of the webinars that Tony Howard and I have done together. They are a helpful, practical teaching tool. I also understand how they extend the reach of the work. I grew up working-class; I'm sensitive to financial limitations. I appreciate that there are many people who are drawn to evolutionary astrology and who can afford twenty-five dollars for a webinar, but who could not afford to fly to one of my four-day apprenticeship programs.
---
Here we go again! You're about to turn 60 and it's time for your second Saturn Return. Saturn is completing another 30 year spin around your natal chart. It's time to acknowledge your accomplishments, and take survey of your experience. But there are potential and classic pitfalls to watch out for during this important and universally experienced cycle. But don't worry! In this presentation Steven provides expert guidance and wisdom that will help you navigate the territory successfully.
---
Tony and I will keep on doing the webinars. In fact, I suspect that starting next year we will do more of them. That is because, despite all the feelings I have just expressed, the time has come for me to do less traveling. Saturn has been talking with me.
As you read these words, I will have just returned, God willing, from a teaching trip to Italy. That will be my last annual trip there.
In mid-August, I make my final annual trip to Australia.
I announced these decisions a couple of years ago, but I wanted to make sure that people who had started those programs could achieve their Level I certifications. That requires three years, and so I felt the need to follow through and not let them down.
With Saturn heading for my Capricorn Sun and me heading for my seventieth birthday this coming January, I am aware of feeling older. Mostly that is a good thing – I am still pretty strong and healthy. Even better, I can honestly say that I feel I am just now hitting my stride as an astrologer. That is one of the most wonderful things about this craft that many of us practice: you can just get better and better at it the longer you practice. Looking back over the years from this end of life, I am glad that I wasn't a rock star or a baseball player – fields where the rules of the game are not as generous to those of us with wrinkles on our faces.
But in all honesty, blasting from California to Italy, teaching for five days, then blasting back home again, is putting strains on my physical body that are beginning to verge on stupid. I have had some travel related blood pressure scares. "Runner" connections, lost luggage, and the tender mercies of security personnel – all take their toll on one's equilibrium. I love my students and I love the two women who sponsor both my European and Australian programs: Lisa Jones and Christine Murfitt. My feelings about ending those classes are bittersweet, but not really ambiguous: I know it is the right choice.
I try to "walk my talk" as an astrologer, and I know what I would say to people when they are experiencing major Saturn transits: I exhort them to be mindful of where they are in the life-cycle. I tell them that old habits are holding them back from becoming what they need to become. I press them to move on to the next developmental stage. To say that Saturn is about "aging gracefully" is accurate enough, but also perhaps a bit of a cliché. I prefer to think of it as aging mindfully, recognizing and accepting any emerging limitations – but also claiming our freshly emerging powers.
My intention regarding my international work at this point is to continue my annual trips to China; my work there feels particularly important, given the larger meta-political framework of the world.
Similarly, I have every intention of continuing my two Apprenticeship programs here in California. Those are short trips. They take far less of my precious time, and are much easier on my physical body.
My program in North Carolina will meet two more times, this coming June, and again in June 2019.
I have been making annual trips to New York state to teach at Omega Institute and with Fellowships of the Spirit in Lily Dale up near Buffalo; my plan at this point is to play those two programs by ear, seeing how I feel about them as I settle into my reduced travel schedule in 2019.
When I am not off somewhere teaching, I am doing astrological readings. For a long time, that has been a Monday through Friday "job." But my client work goes to a four-day week starting in January. My waiting lists for the personal readings I do are already terribly long, so cutting back my hours will be something of a train wreck. But it feels right – again, Saturn is telling me that it is time for me to move to the next developmental stage.
From all that I have written, you would be forgiven for thinking that my fancy talk about my "next developmental stage" could easily be defined in less exotic terms: semi-retirement. But, hey, I am a Capricorn with Saturn in Virgo on my midheaven – retirement, even of the "semi" variety, is really not in my DNA. This work means so much to me; this work feels inseparable from my identity; I will do it as long as I am capable of doing it.
And I fervently hope that is a long time.
But, keeping perspective, I have been on the road since the 1970s. That is long enough. I am so aware of the sands of time, and mindful of the remaining grains. That makes for a poignant meditation while standing for 45 minutes in a TSA line. The work needs to take a different form.
So what is next?
As I mentioned earlier, I suspect that Tony Howard and I will do more webinars. I have learned to enjoy them and to appreciate the democratic availability of the material compared to my live classes. To better support that intention, Michelle and I are in the process of building a studio; it will facilitate video work much more elegantly than my cramped office ever could.
I am not quite sure what direction those future webinars and videos will go. Email me with suggestions for topics or programs, if you like.
I have written many books and articles, and recorded countless hours of teaching. Taken together, it constitutes an astrological education -- but the material is a chaotic mish-mash. Organizing it into a structured, coherent course of study has long been a dream of mine. To date, that project has been prevented by my "need to get to the airport" or the fact that a client is knocking on my door. As I move into 2019 and beyond, I hope to create a smoother, more logical road through that material for a beginner to follow to astrological mastery.
When I think of my "next developmental stage" and the breathing space I am creating in my life for it to inhabit, right at the top of the list is the idea of more writing. Books, to me, are the ultimate learning tool. I have written a dozen of them, but right off the top of my head I could easily think of the dozen more that I would like to write. Where is The Book of Uranus? Where is The Book of Houses?
In my southern California apprenticeship program, in sixteen days of teaching spread over two years, I explored astrology's four Elements: Fire, Earth, Air, and Water. I have launched on an ambitious project: turning that material into four books. I am currently about halfway into the first draft of The Book of Fire. I find I am actually writing this book; it is not an edited transcript of the classes I offered. I want it tighter and more succinct than my usual rambling spoken-word style.
(I am praying, by the way, that being halfway into the project  means that it is safe to announce the book without jinxing it.)
The Book of Fire is not simply about the element Fire. It is an in-depth study of the life-giving role of the three fire signs: Aries, Leo, and Sagittarius, along with their corresponding houses, the first, the fifth, and the ninth. Completing the picture, I am exploring the roles of Mars, the Sun, and Jupiter – the ruling planets of those Fire signs. The Book of Fire will contain a lot of "cookbook" material – that is, specific discussions of those three planets as they function in each of the twelve signs and each of the twelve houses.
Doing the same with Earth, Air and Water is a huge project, so completing this series will take me a long time. My hope is to create something of a reference "Bible" for the style of astrology I have been teaching all these years: a set of books to which students and practitioners can turn when they need some help kick-starting an interpretation.
So that is my master plan, assuming old Cosmo chooses to keep my heart beating for a few more years. I feel like I am doing my own part in that laudable work of keeping my heart beating by listening to Saturn, walking my own talk, being mindful of the aging process, and embracing my next developmental stage.
The passion I feel as I contemplate this path is my confirmation that it is the correct one.
Meanwhile, I meant what I said at the beginning of this little essay: there is nothing quite so transformative, magical, and powerful as teacher and students sitting together in the same room. I do plan to continue doing that for as long as I can, just in a less-brutal fashion. We've had some good experiences with live classes out here in my desert home-town of Borrego Springs in southern California. I suspect more of those are on the horizon too.
Here briefly is my schedule of my live teaching over the next few months. For more detail, check my event calendar.
May 17 - 20. Alpine,CA. My southern California Apprenticeship Program, where we will be exploring the North Node of the Moon.
May 24 - 29. Chicago. The United Astrology Conference – the gigantic astrological pow-wow that happens every few years. I am doing a pre-conference workshop about Aspects, along with a couple of short talks. UAC could never be characterized as "a paradise for introverts," but I can't think of a more efficient way of getting a taste of all the different styles of astrology plus a quick look at many of the well-known teachers and writers in the field.
June 21 - 24, Durham, North Carolina. Perhaps for the last time in the United States, I will be doing one of my favorite programs: "Generations."  Rather than try to summarize it here, I would suggest you take a look at the website link listed above. It sounds as if it might be a history lesson, but the program is profoundly personal. My favorite line from it is, "Trust the children." Each generation is taking an archetypal process one step further; each one of us is an alchemical cauldron in which the larger Cosmic Mind is running some interesting experiments . . .
July 6 - 8, Omega Institute, Rhinebeck, New York. "Purifying the Three Poisons." This is a Buddhist-inflected workshop about Mercury, Venus, and Mars. As the title suggests, they are poisonous if you get them wrong – and magic evolutionary elixirs if you get them right.
July 30 - August 3, Port Stephens, Australia. My last annual trip to the Land Down Under – I will be repeating my "Generations" program there.
August 18 -20, Lily Dale, New York. This will be a three-day practicum about transits, progressions, and solar arcs. The classes in Lily Dale tend to be intimate; we will be working with the charts of class members. And Lily Dale itself is a place of wonder that I have grown to love very much: it is a spiritualist community. Being there feels like being transported in the Time Machine to the middle of the nineteenth century.
September 28 - October 2, Petaluma, California. Jupiter, Saturn, and Their Ancient Dance. This is my Northern California Apprenticeship Program, meeting in a new location that sounds very promising. We will be exploring the complementary functions of Jupiter and Saturn, with an eye on their upcoming conjunction and how it will impact our individual charts.
And in October I will return to China, teaching in Beijing and in Dali, Yunnan. The programs there are sponsored by NoDoor.com. We will soon have information about them posted on our website, but you can contact NoDoor right now.
---
Listen to the audio version of this post.
---
Facebook Comments