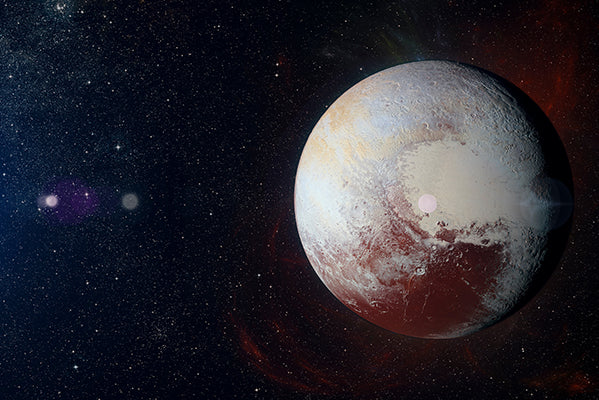 We're in the midst of the epochal, but painfully languorous, entrance of Pluto into Aquarius. We know it will change the world – Pluto's sign changes always do – but please don't hold your breath. The process won't be complete until Pluto finally kisses Capricorn goodbye on November 19, 2024, a little over one year from now. And that will only be the beginning – Pluto won't be done with Aquarius until January 2044.
Those of you who have been following Pluto's patchwork transition know that it has already been in Aquarius once. That was for just 39 days, starting on March 23rd, 2023, whereupon it retrograded back into Capricorn, where it remains today. But on October 10th, Pluto turns direct and heads for the Aquarian frontier again. It crosses the line on January 20th – only to return once more into Capricorn on September 1, 2024 before definitively entering Aquarius 78 days later.
The push-pull you can feel in that long recitation of dates is not just happening up in the sky – it's happening here on Earth too. "As above, so below" strikes again. The back-and-forth in the heavens is echoed here on planet Earth.
If you're interested in learning more, I've written here on the blog and also spoken live about this massive Plutonian transition.
In this newsletter and podcast, and in honor of Pluto making a powerful station this month, I want to focus on one single dimension of the process – possibly the most important one of all.
Pluto invites us to look at the dark side of whatever it is contacting. The aim is always about healing and release, not about gloom or shame. But getting it right takes a lot of emotional courage – being honest always does. 
One ancient, traditional view of Capricorn is that it represents the archetype of the Father – a quality also echoed in Saturn (Capricorn's ruling planet) which has always been seen in the same way. For years, the meaning of the word "father" was viewed in straightforward fashion: a male progenitor of children, and presumably present as the "head of the household" – protector, provider, and disciplinarian. Gender roles are far more fluid today and to remain relevant, astrology's language must remain current. We won't be assuming that narrowly masculine  interpretation of the Capricorn archetype to be eternal or unchangeable. But no one can deny that this patriarchal reading of Capricorn has a long history. Some of those ghosts are haunting us now, as we will soon clearly demonstrate. Before we go there, let's affirm that even under the patriarchy, there was often plenty of love, kindness, and decency. Not all fathers were tyrants – and not all of the "women and children" who looked up to them for guidance and protection were weak or downtrodden. Life was never quite that simple.
Remember though – with Pluto, it's the dark side of things that comes to the surface. Pluto's job is a lot like Freud's definition of psychoanalysis – it's about "making the unconscious mind conscious."  And things never get driven down into the unconscious because they were sweet or pleasant. That is why one of the underlying nightmares we have seen surfacing since Pluto entered Capricorn back in 2008 has been the re-emergence of the Dark Father. That term refers to the toxic face of this parental archetype – one that involves abusive authority and a relentless desire for incontestable, controlling power over others. 
Astrologically, how might we create a symbol for tyrants, whether they are running nations or dominating families? The answer lies in putting Pluto in Capricorn – or Pluto conjunct Saturn, which is basically another astrological way of expressing the same combination of ideas. Is everyone born with either one of those configurations a tyrant? Of course not! They may very well have the seeds of that kind of misconduct in them – but they also have the seeds of the kind of wisdom that sees through those temptations, is capable of weeding them out, and therefore of being a "good dad" – or a good mom, for that matter. 
Nothing in astrology ever has a purely negative meaning. Everything is always about a potential path forward.
Still, since 2008, the boil has been breaking. Everywhere on Earth we've been looking at the rise of the dark fathers. There's nothing subtle or esoteric about any of this. You've seen it in the headlines and on the news. You know their names too – Putin, Trump, Kim Jong-Un, Netanyahu, Bolsonaro, Orban, for a few examples. Most of you can probably add a few more names to the list without much effort. You can probably take it further by getting a little closer to home – maybe one of these dark fathers is your boss. Maybe one is actually your father or your father-in-law. They're not all in the headlines. They're not even all male.   
Let's go a little deeper. 
Here's your ticket to Pluto's higher ground – but beware, the route there often takes you through something like hell. Ask anyone who's ever received deep psychotherapy. Ask anyone who's ever apologized with tears in their eyes to another human being. Pluto work takes several virtues. One of them is emotional courage – that means the ability to face strong, even truly poisonous, emotions without denial or rationalization. Another is humility. 
I guess I should say "trigger warning" here. To truly understand what's surfacing now we need to employ some strong imagery. 
Imagine the absolute terror and desperation of a six-year-old child who, for one example, was orphaned two hours ago in a Russian airstrike on a Ukrainian city. Kids need their parents! They sense accurately that survival depends on them. Can we imagine the desperate horror of that child? To truly understand what Pluto in Capricorn has been revealing, you have to find those desperate children inside yourself. 
You have to feel that translogical, overpowering compulsion to take refuge in mom and dad. You have to feel what that child feels – that there are simply no other possibilities, considerations, or concerns. 
Even battered children often profess love for their parents. Our fear of being "fatherless" cancels reason and dignity – it even cancels rational plans for survival. It is that primal. When this fearful, desperate drive "for someone to take care of me" surfaces in the collective, humanity faces a dire situation. And, right on cue, synchronistically, the dark fathers appear – but what really makes them so dangerous is that people are hungry for them. For that sense of protection, safety, and guidance, people will overlook the most grievous moral offenses and failures in these "fathers." They'll believe anything. 
These people are not dumb. They're not crazy. Instead, they are in the grips of the most primal fear imaginable. Again, just think of that orphaned child searching for mom and dad in the rubble. This isn't about thought or reason.
Never forget that all Pluto events are ultimately about healing. This ancient, toxic Dark Father archetype was ripe for surfacing in 2008. What that really means is that humanity was ready to face it and potentially to heal it. Naturally with any truly "macro" astrological event like this – one that impacts the entire world – we will see everything. All the possibilities. The lowest ones will certainly manifest, as will the highest ones. 
The trouble is, the lowest possibilities often dominate the headlines, so let's be careful not to be hypnotized into despair by the endless news cycle. What the news consistently misses are personal spiritual breakthroughs – I'm talking about all of the individuals who have felt their "desperate inner children" grow up and start to stand on their own two feet. For example, I am talking about the people who got brave enough to leave toxic relationships since 2008 and took the risk of surviving on their own. I am talking about people who left churches that were run by dark fathers. I'm talking about the ones who left "safe," soul-sucking jobs simply believing that they would figure out a way to make it – and they did! These are the kinds of victorious souls who will lead humanity into the very adult freedom promised by Pluto in Aquarius – and maybe into the Aquarian Age itself. 
Meanwhile, hallelujah, we are nearing the end of a time in the world's history in which the eternal laws of synchronicity have demanded the "Rise of the Dark Fathers." Aren't you sick and tired of them? Take heart – several billion humans are starting to feel the same way. It's nearly time to turn the page.
Make popcorn. We'll soon be running the credits at the end of that long, long depressing film that started in 2008. I'll be very surprised if we don't soon see the fall of the dark fathers, one by one. October 10th, with Pluto turning direct in Capricorn, marks some kind of turning of the tide on that epochal process. It's not over yet though – remember Pluto isn't solidly and finally out of Capricorn until November 19, 2024, a little over one year from now. 
But don't worry – nothing can stop it.
Listen to the podcast version
Facebook Comments